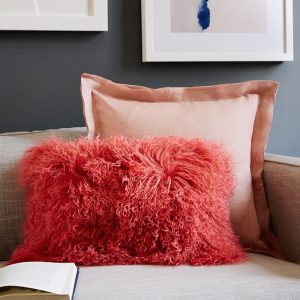 Spring is just around the corner and what better way to introduce it to your home than with Rose Quartz. This lovely colour blends shades of pink to produce a rich, multifaceted colour that provides warmth and a sense of home. It brings a pop of colour that can brighten up even the dullest of rooms. Go all out or try just a few accents. This colour is sure to bring an aura of happiness and comfort to your home. Rose Quartz is a versatile shade that can update the look of your home in a variety of ways.
As an Accent
Small accents of colour throughout a room can have a major visual impact, instantly drawing your eye to key focus points around the room. Try an antique lampshade in your bedroom or a decorative pitcher in your kitchen. Accent pieces are a great way to experiment with a new colour palette without having to make a full commitment to it until you are ready.
To Fill a Room
If you have a room in your home that is looking especially bare, a dash of Rose Quartz can be just what you need to take that room from drab to dynamic. This vibrant colour fills the empty space with warmth, making a somewhat empty room feel inviting. Try a quilt in this welcoming hue in your guest bedroom or a bold wall tapestry in your entryway. The richness of the colour will make your guests feel immediately at home.
For Dramatic Impact
To make a bold statement with Rose Quartz, use it to tile your bathroom. The energy of the shade creates an atmosphere of comfortable luxury that is perfect for lounging in the tub and pampering yourself. For an even more dramatic effect, paint a single wall behind your bed and use bedding in a dark colour. This warm tone will create a romantic atmosphere that is ideally suited to the bedroom.
Moving into a new home can be the ideal time to start thinking about redecorating. Throughout the moving process, you can take inventory of your decor and get rid of anything that no longer fits with the style you have in mind. When you get settled into the new home, it's like having a blank canvas on which to develop your new decorative theme. If you're ready to make a move contact us today!
Tags: